Affordable Insurance
Accredited Training Through the Searey Flight Instructor Association
Recognizing that quality training, increased safety, and affordable insurance all go hand-in-hand, Searey flight instructors and insurance industry experts have joined together to create the Searey Flight Instructors Association and with it a robust, standardized curriculum tailored specifically to Searey pilots. The ideais simple and proven and based on models put forth for aircraft such as Lake amphibians and Cirrus aircraft: By improving training, accidents go down allowing underwriters to offer better rates.
The Accreditation Course
The basic Searey training and accreditation course includes 13.5 hours of flight training and covers:
Aircraft Systems and Flight Manual
General Handling – Land & Flight
Retractable Gear, Tail-Wheel and Patterns
Launching, Water Handling, and Beaching
Water Take-Offs and Landings
Advanced Water Take-Offs and Landings
Glassy Water Operations
Pilots are required to receive 4 hours of annual recurrency training from a Searey Flight Instructors Association accredited instructor in order to maintain their own acreditation and remain eligible for low insurance rates.
LOCATE AN ACCREDITED INSTRUCTOR
MARYLAND
Chesapeake Sport Pilot
Helen Woods
410-604-1717
Dan Rowe
410-604-1717
FLORIDA
Please call at least 3 weeks early for winter scheduling.
Don Laughlin
Kissimmee, FL
407-701-7753
John McLeroy
St. Cloud, FL
321-287-3650
www.CaptainSpeak.com
GET AN INSURANCE QUOTE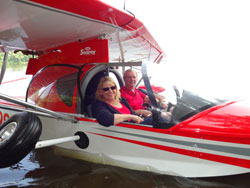 Denise Porter and her husband Scott are the co-owners of the small, family run insurance brokerage Aviation West of Vista California. Denise is the most experienced broker in the United States for Seareys. She has been actively involved with the Searey Flight Instructors Association working to educate underwriters about the Searey training program and bring additional underwriters to the table to insure Seareys. Her work has paid off with additional underwiters and insurance lower prices now available to Searey owners.
INDUSTRY INSURANCE PARTNER
Denise Porter
Aviation West Insurance Brokers
Toll-Free: 888-727-9655
Local 760-727-7444
Fax: 760-727-7555