The folding wing option is great for waterfront property owners who would like to store the plane on their property.  It is currently available for the Searey LSX kit or the ELSA version of the Searey Sport or Searey Elite. Please call for more details.
Tailwheel Jack
Equipment and Supplies
In order to better serve our customers, Chesapeake searey is developing and offering a full line of Searey supplies and equipment.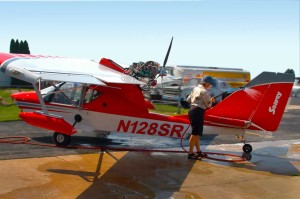 Chesapeake Searey operates in the brackish waters of the Chesapeake Bay. In order to maintain our plane in pristine condition, we wash her down after each flight with Salt-Away. Salt-Away is a non-toxic, biodegradable product that removes salt from your airplane. Simply fill the mixing applicator, connect the handle to your garden hose and attach a spray nozzle to the outlet end. Turn the green knob to the 'Salt-Away' position and spray onto your plane

For the nearest retailer or on-line websites, please call Salt-Away at 714-550-0987 or email sales@saltawayproducts.com
Dilution Ratios and Application Methods
Coming Soon!
Searey tailwheel jacks: Preflight your tail assembly without all of the crawling!
Searey docks: Park in front of your house!
Searey anchors: Light weight, perfect for your Searey
Click here to add your own text